1700 YEARS OLD COIN "Constantine The Great Era Roman Empire 330AD - Sealed Case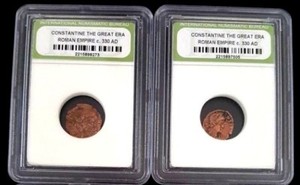 ---
1700 YEARS OLD COIN:  "Constantine The Great Era - Roman Empire 330AD " In Sealed Dealer Case
Constantine The Roman Empire. This unique and rare coin comes encapsulated in air tight dealer case.
We pull 1 random for u from a large stack. this coin is great for any collection or to start collecting
How many people have a coin from 330 ad!! Fast-n-Free Shipping Now For U Too.